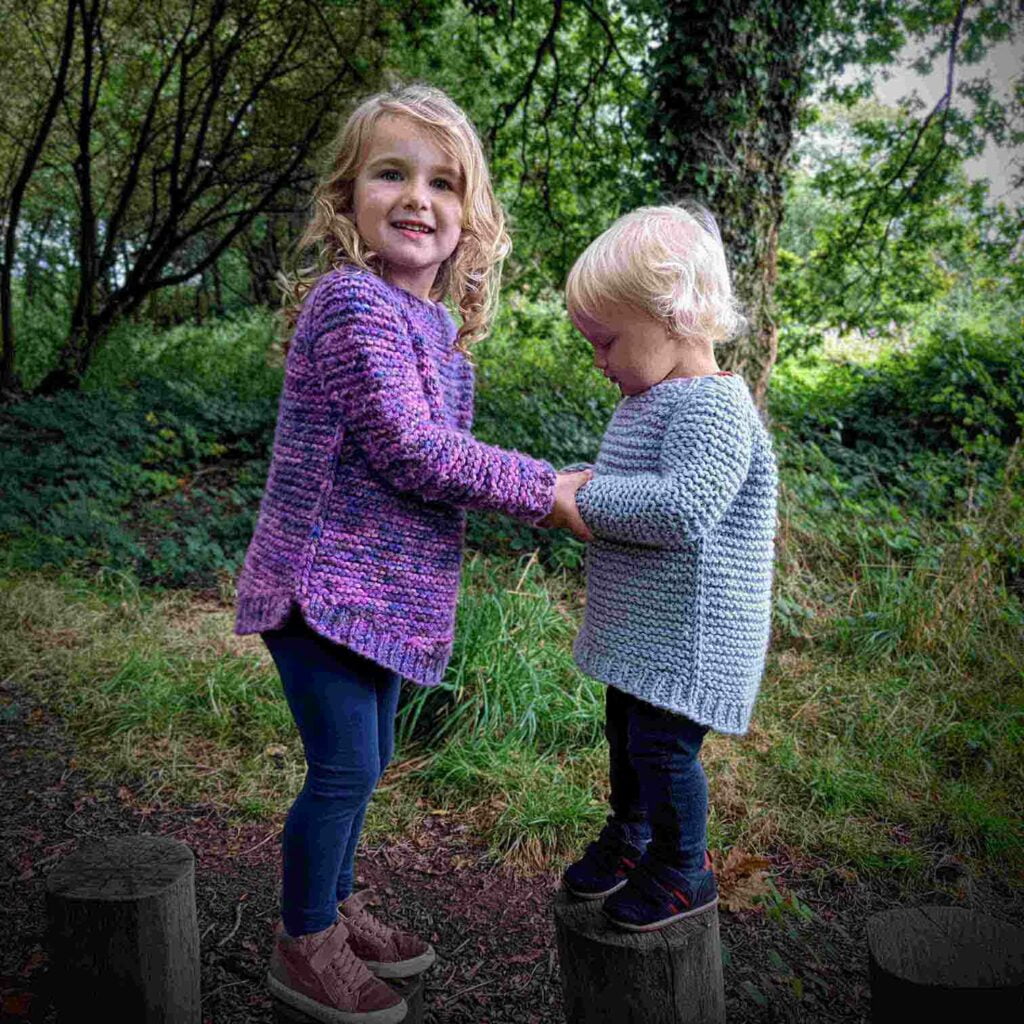 Garter Squish Kids was the first knitting pattern I designed and released myself back in September 2021. That feels like a lifetime ago now but I guess it isn't really! I was still working as a Midwife at the time and would never have imagined that just 18 months later that I would have given up my profession and be designing knitwear for a living! What a rollercoaster time it has been! When I look back on that first pattern release I think about all the things that I know now that would have made my life so much easier then! For instance, although I've always got by, math has never been my strong point. My mathematically minded engineer husband was 90% of the brains behind the grading for Garter Squish Kids, and probably more than 50% of Garter Squish Adult. But I leaned a lot, quickly, and now can say it comes fairly easily. I would also say that I now quite enjoy it which I never thought I'd say!!
Now with hindsight and a bucket load more knowledge it's easy to criticise the early patterns, I honestly feel so pleased and proud of what I achieved with the Garter Squish Jumpers. I was very much going for a simple staple chunky unisex garment with lots of squish for the winter months. They deliver this exactly! But do you know what they also have hidden in them? Some pretty nifty little design elements that I probably haven't shouted about enough…
1. Top down construction with a Tubular cast on for a super neat neckline edge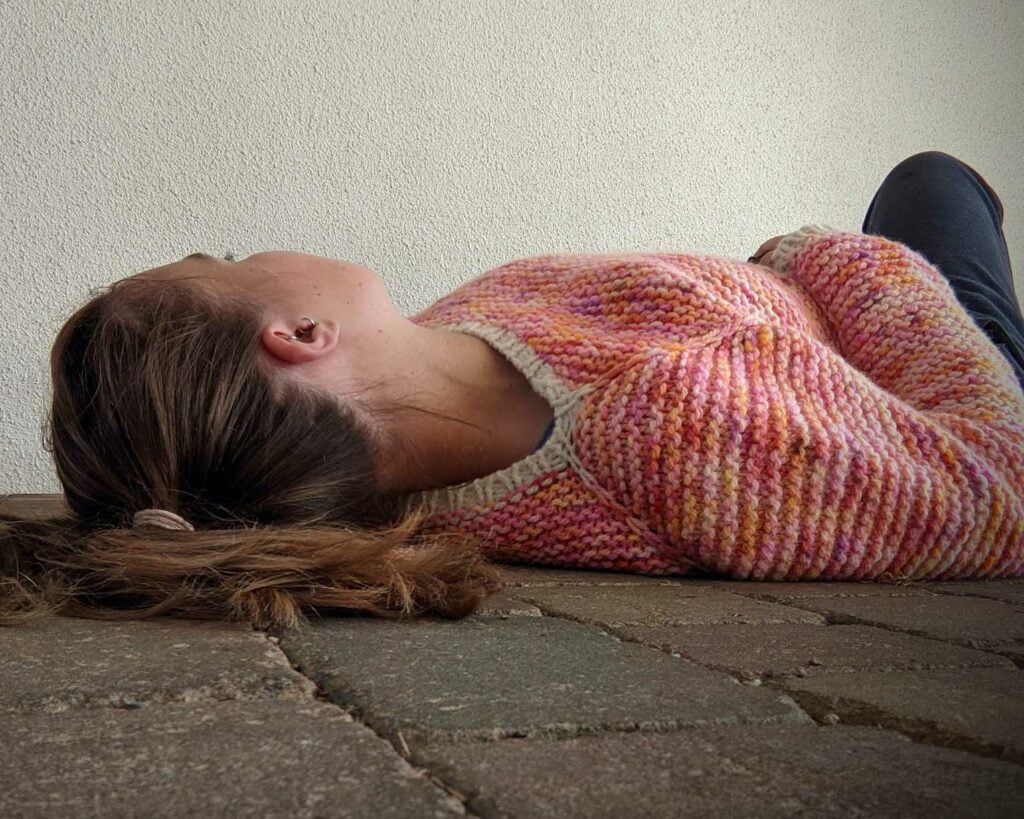 The neckline and yoke of a jumper is often one element that would catch someone's eye as it is the part of the jumper most likely to be seen as someone faces you to communicate. I am sure this is so very often why colorwork yoked jumpers are so popular. It is a great place to make an impact on a garment. One thing I don't like about chunky knits is how big stitches show big issues; this is something my friend Jacki of The Woolly Badger has blogged about recently. If design elements don't quite flow, it shows. Cast on edges aren't always the tidiest of things so it was important to get it right for the Garter Squish. I first experimented with the tubular cast on for this design because I wanted it to be as neat and tidy as possible.
Not only is the tubular cast succeed in creating a super neat cast on edge, but it also has a hidden job for the Garter Squish Jumpers, particularly the adult version… These jumpers are heavy. With only 100m of yarn per 100g skein, the weight quickly adds up for this squishy beast of a jumper. The tubular cast on helps give the neckline a little more structure than your average cast on which really helps it hold the weight of the rest of the garment. My go to cast on method is the long tail cast on, which was just too bulky for this design so the backward loop cast on method was used for the kids pattern, as you can see in the photos below. This edge works fine for the smaller jumper, as it doesn't have so much weight to contend with but it isn't structured enough for the heavie Adult jumpers. However, I have now added the tubular method to the kids pattern instructions after it became such an important design element of the adult version.
2. A ribbed neckline which runs uninterrupted into the raglan shaping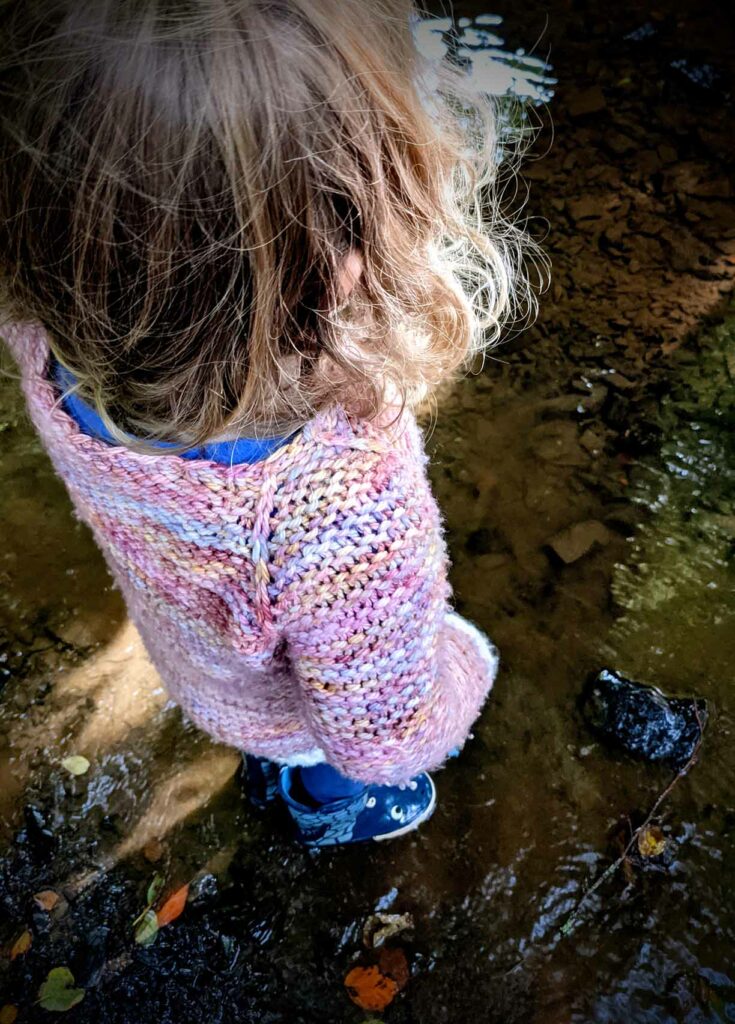 The slipped stitch of the raglan on the Garter Squish Jumpers would have looked mighty silly if it was off by one stitch, i.e. starting after column of purl stitches rather than knit. As you can see from the photo's, the raglan slip stitches flow seamlessly from the rib into the raglan almost as if the raglan starts from the cast on (it doesn't!), neat huh? An added bonus that I didn't think about at the time is how the slipped stitch detail frames the top of the shoulder like you can see in the photos from that angle. Oh I love a raglan!
3. Hidden short rows to create a better fitting neckline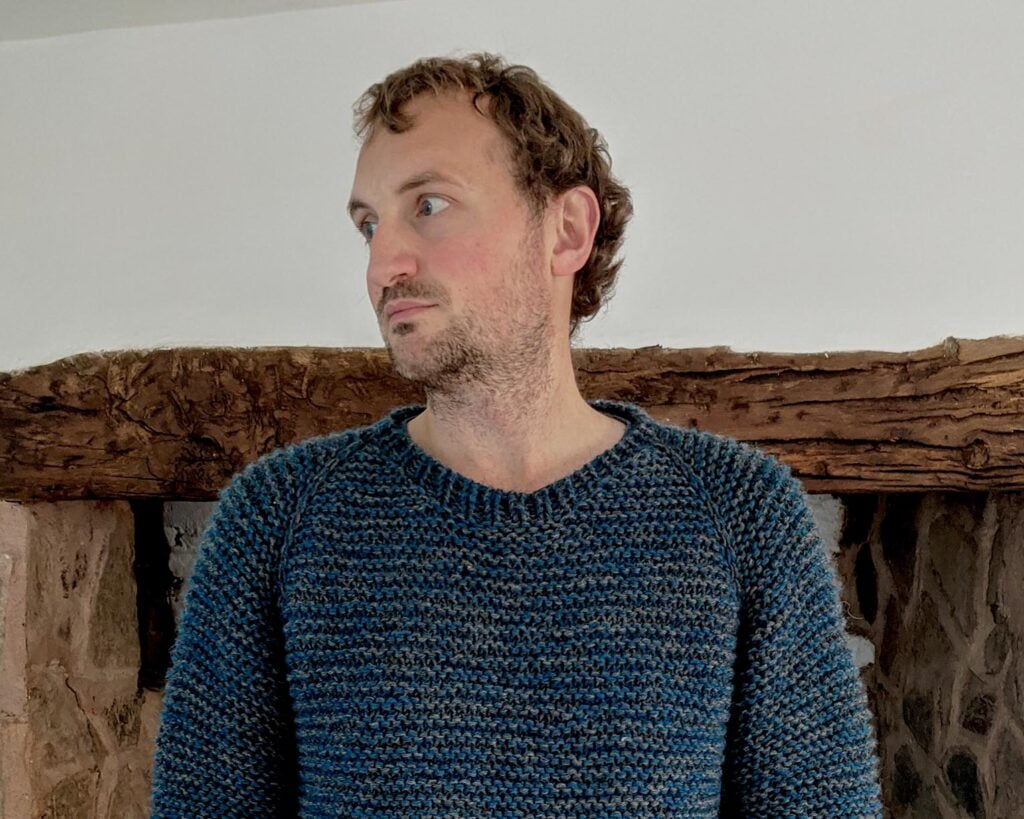 Can you see the curved scoop of the neckline in this photo? That is created by one of my most favourite techniques, German Short Rows! They are excellent for two reasons; firstly because of the beauty of the finished result but also because they are so damn easy to do! I never fully grasped traditional wrap and turn short row techniques but honestly now I would have to be seriously convinced not just to substitute them for German Short Rows. A bit like the tubular cast on though, the short rows in this particular case aren't just shaping the neckline. The double stitches of the short rows are all placed along the bottom of the neckline rib. This not only helps make them even more invisible as the bulk of the double stitch is tucked up against the rib, but they also help to give the neckline added stability to deal with the weight.
4. Garter stitch knit in the round with no 'jog' in the pattern when changing rounds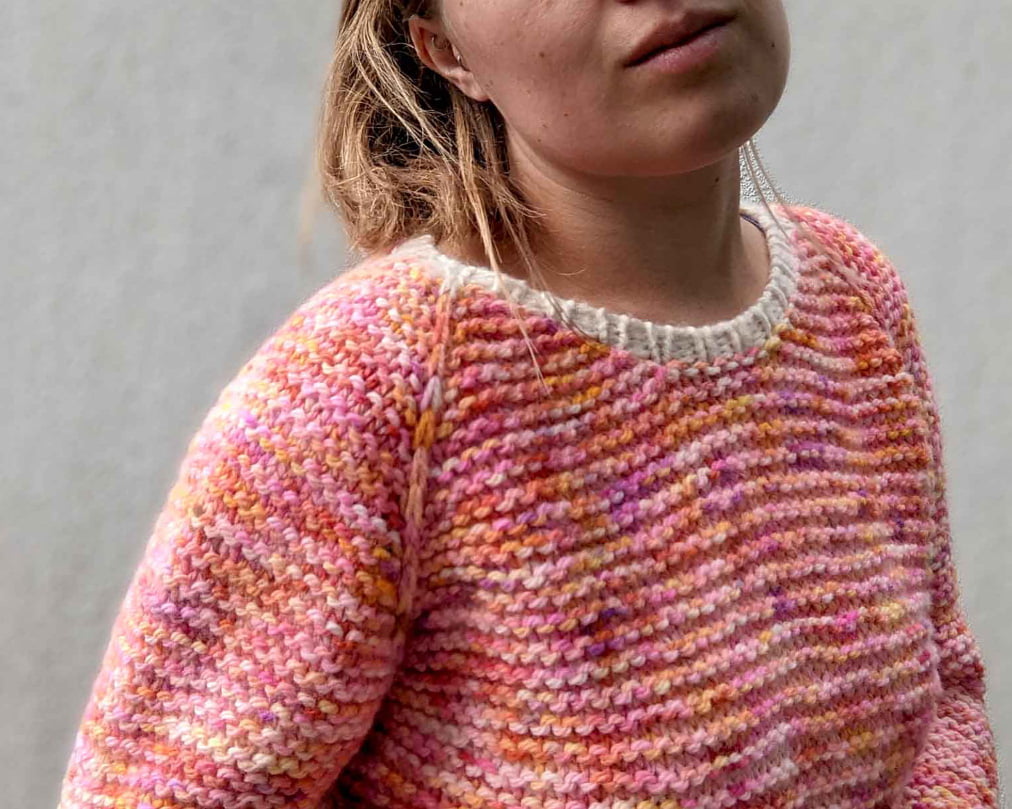 Not only is this a great view of the rib/raglan detail but it also shows how the slipped raglan stitches hides the 'jog' in pattern that occurs when working garter stitch in the round. In this case, the start/end of round is situated along the raglan shaping line seen in the forefront of this photo. Never know, would you?!
5. Neat and tidy underarm detailing where the raglan stitches meet the faux side seams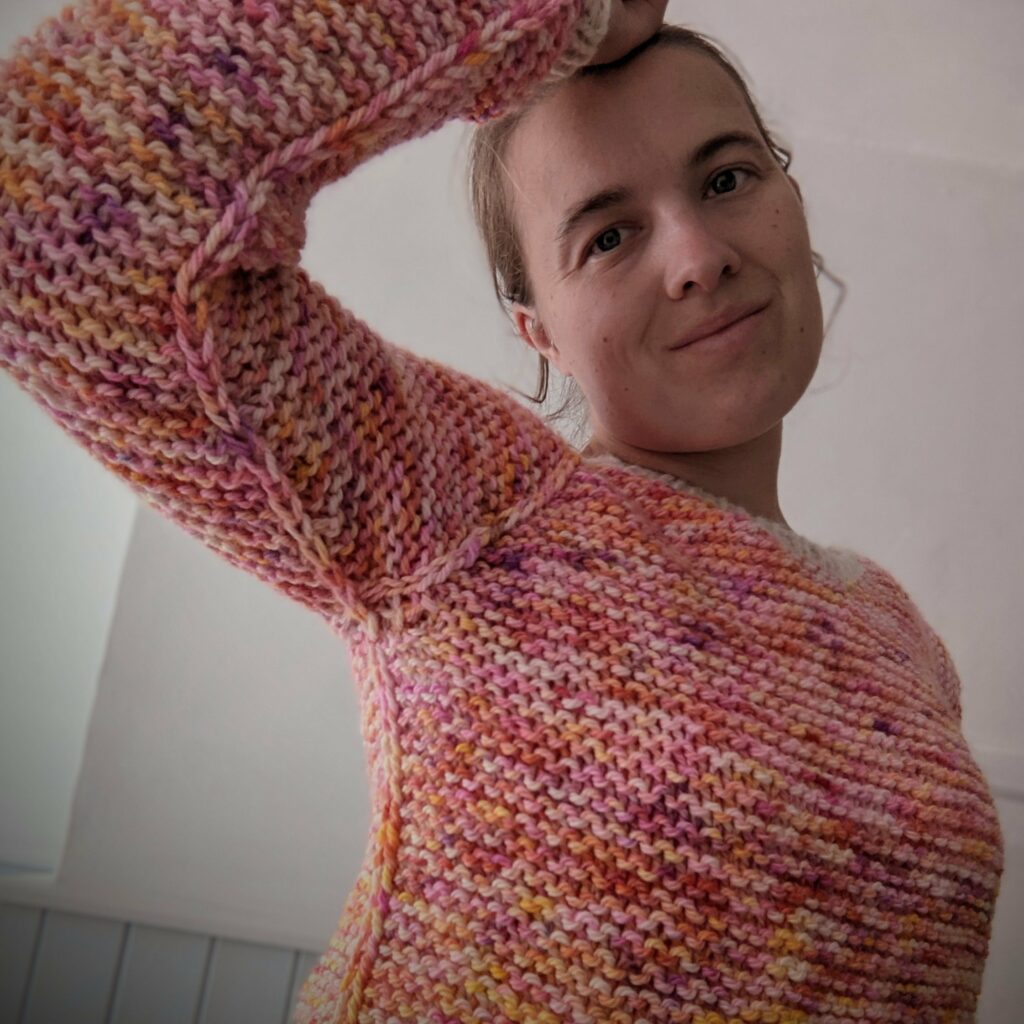 I dislike how often the underarm of a garment can be unsightly where stitches are picked up and the fabric is stretched at the corners where the direction changes. I also find it irritating when patterns make a feature of the raglan shaping but then that feature abruptly stops when the raglan shaping stops. Like I said before, big stitches amplify less than perfect elements so the aim of the slipped stitch design extending into the body and sleeve faux seam is to combat both of these things! Plus I think it looks pretty cool too!
6. Two bottom hem shaping options making it a super versatile, unisex design
I don't like to say that one style is more feminine or masculine than the other, and I'm not sure what part of either style would make it swing one way or the other, but lets just say that there are two styles to choose from and they both work for either, all or none of the genders! I simply wanted to create something that can work for anyone.
7. Garter Squish comes in ALL of the sizes!
Where possible, I aspire to create designs that cater for as wide an audience as possible, providing the style of knit is appropriate for the target market. For example, my Flutterbye Cardigan was specifically designed with my 4yr (now 5yr) old in mind and therefore, to date, I haven't graded it to adult sizes. I think it could be worn by adults, maybe one day I will do it, but I don't currently feel like there is a big enough gap in the market for an adult peplum cardigan! Not when it is a style I wouldn't personally wear, anyway! Please do spam my inbox if you feel like you need an adult Flutterbye in your life!
Anyway, the Garter Squish patterns range from a 2yrs size (24″ / 60cm) right up to a chest circumference of 66.5″ (166.5cm). I have tried REALLY hard to achieve this and I have learned so much about body shapes and pattern grading in the process. Although the design is overall meant to have a boxy, oversized fit, I have included notes at the end of the Adult pattern to help customise the fit. This sounds like blog worthy content but that will have to wait for another day!
8. Got leftovers? Why not knit a beanie with them!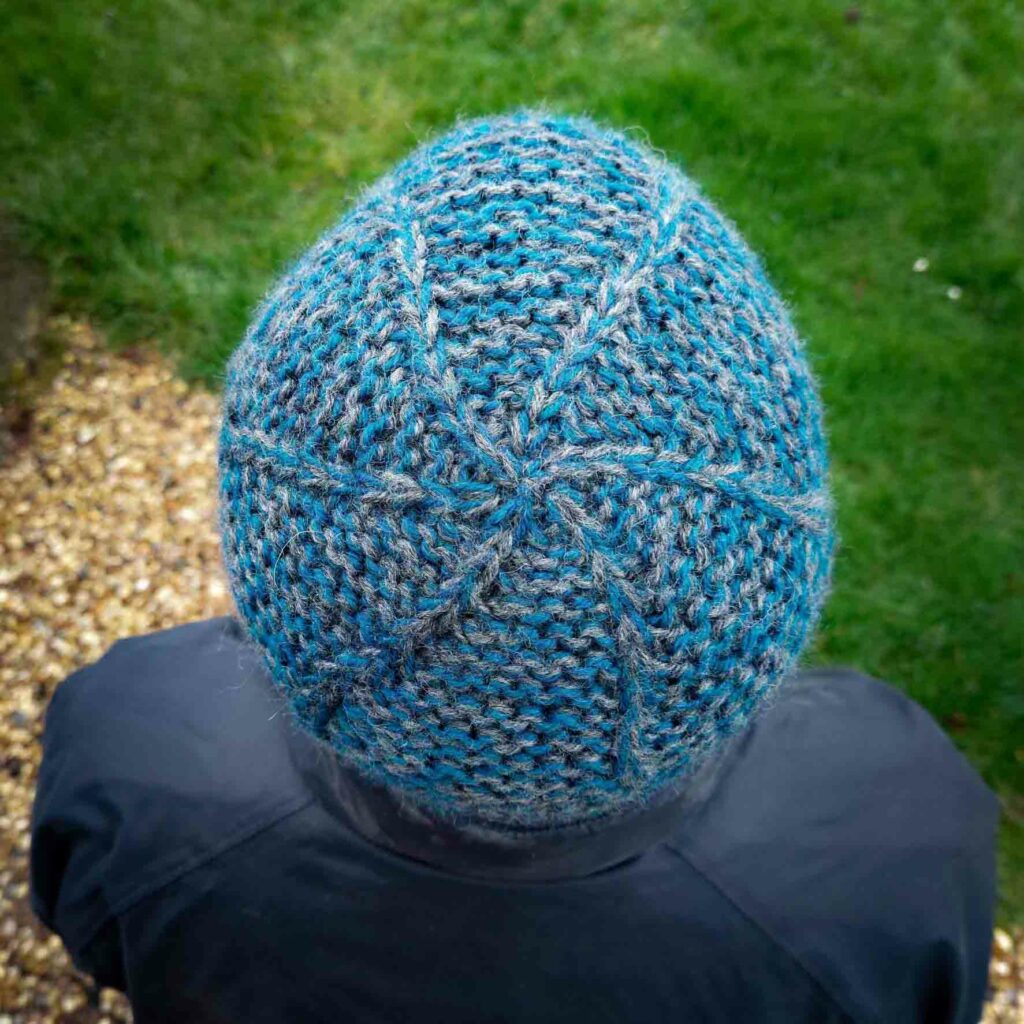 The free Garter Squish Beanie pattern is perfect for using up any leftovers you may have and a perfect addition to your growing cosy winter warmers. I still have about 2 skeins of chunky left from my jumper and I am seriously tempted to add a pair of mittens and/or socks to the mix too! There's no such thing as too much Squish, right?!
Soo… Have I tempted you enough to pick up your needles?
if not, then have a reward for getting this far! Use the code "SQUISHYCUDDLE" on my website (which is powered by Payhip) and Ravelry to get 30% of either or both Garter Squish patterns as a thank you for reading! And if you do knit yourself a squish warm cuddle for next winter, and share your progress on social media, don't forget to tag me in your makes! @catcraftyknits, #catcraftyknits and #gartersquishchunky!