Yet another post that has been in my head, ready to write for months and months! The main delay for this one was due to a very large time lapse between dying the first lot of wool and actually knitting it. I wanted to show it knitted up.
Attempt no. 1
Back in 2016, I brought some lovely UK Alpaca undyed DK wool which I planned on knitting myself a cardigan with. However, as I'm sure everyone does, it sat in my stash for too long and I decided the pattern wasn't for me. It was a cardigan with a cropped body and sleeves and it just wasn't for me anymore. Because of this, I hadn't brought loads of yarn so I didn't have enough for any other pattern I looked at. Therefore it became my first attempt at dying.
I did a little bit of reading on dyeing wool before deciding to basically wing it… Here is how my first attempt went (I wouldn't advise using this blog post as a tutorial at all, I had no idea what was doing and there's far better resources out there!!)…
The yarn was in 50g balls so I used my winder to make 100g skeins and then soaked it in warm water and white vinegar. I then used a pan on the hob (for two skeins) and my slow cooker (for one skein) to experiment.
You can tell I didn't really understand what I was doing because in both cases I kept some water in the pans which just meant that my dyes diluted quickly and the colours merged easily. I used Wilton food colouring to dye this wool, hence using pots from my kitchen as the dyes are food safe! I diluted the food colouring in glasses with warm water and then added to the wool in rough patches and left it to simmer for an hour at a time. I assumed I would only have to do this once but because I left the water in the pans, the dye diluted very quickly and was nowhere near enough to colour the wool.
Despite winging it I was actually quite happy with my days work but then panicked when it came to rinsing it after. It lost A LOT of colour and continued to drip coloured water into my bath as it dried. I couldn't imagine that once knitted, it would survive even the most gentle of wash…
The first skein was the one done in the slow cooker and the other two were on the hob. A bit of a shame that they aren't identical but I can't complain as I think they are alright for a first attempt. Not entirely what had in mind but still pretty. Most of the pink mixed with the purple and blue but at least it's not offensive!
I used it to knit a jumper for Pippa so chose one with lots of colourful buttons on, the reason being that if it lost all its colour in the first wash, then hopefully it would still look pretty.
The pattern is Buttons by Dani Sunshine and I am really happy with it! It took me ages to photograph it so this is it after being (hand) washed several times. It's kept its colour!! I alternated the lighter and darker skeins so that the colours were even and I have well over a skein left too.
Attempt no. 2
Back in November, mum treated me to tickets to Stitchfest Southwest and a dyeing workshop with Lola from Third Vault Yarns. This was such a fun morning and taught me so much. It actually made dyeing seem much easier than I had thought, if you know what you are doing!
In this workshop we practised on 3 mini skeins and then had a go on a full 100g skein. I almost always go for pinks or teals or purples (hence the colours used for my first dyeing attempt) so for this I tried to use completely different colours. Lola prewashed the skeins and prepped them with citric acid and then also prepared the acid dyes with hot water and citric acid ready for us to use. We had a container to put our yarns in then showed us different techniques. E.g. Simply submerging the yarn in the dyes, pouring the dyes in specific places on the yarn, or using resistance (knotting/twisting etc.) to get different variations of colours in the yarn.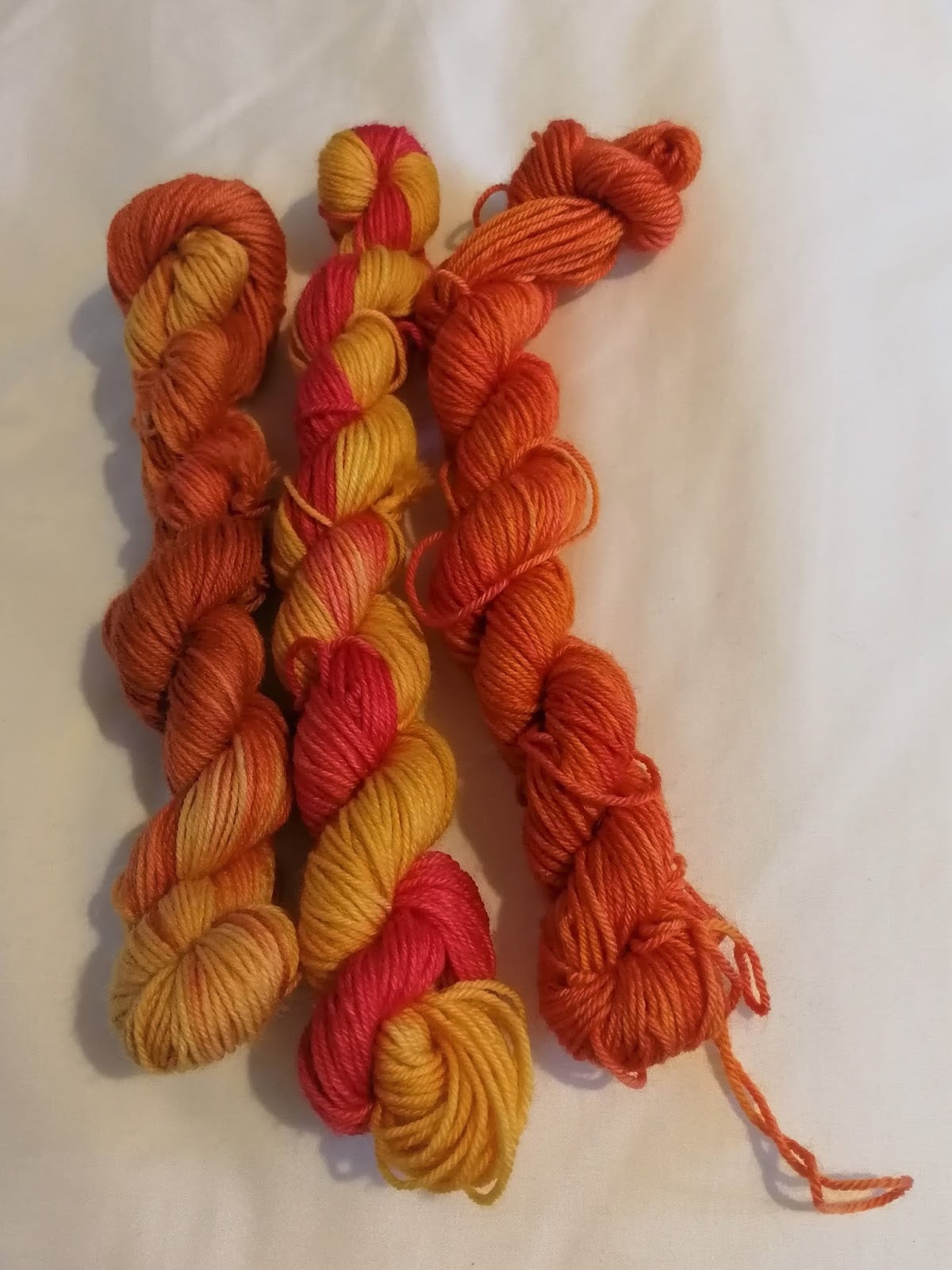 I was super happy with the results I got from my mini skeins, I thought they came out really nicely. However, by the time it came to the 100g skein, I had run out of ideas for how to use the same colours. Therefore I attempted something slightly different…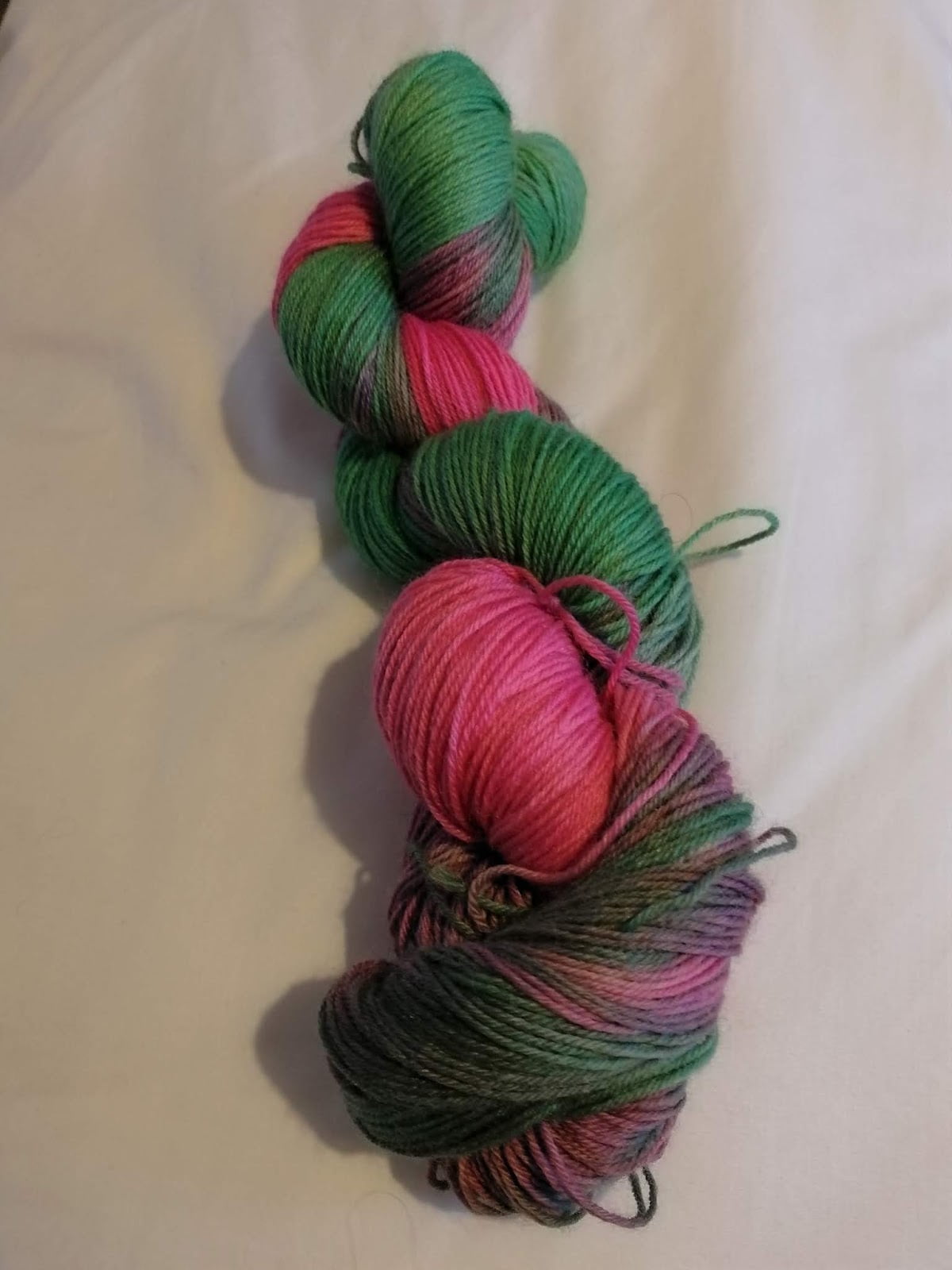 I sort of like the idea I was going for but didn't really execute it very well. Where the green and pink are in blocks, the colours have come out well. However I am not particularly fond of the parts where they merge and have become muddied. In some areas, the colours are just not that strong which was my attempt at reducing the amount the two colours mixed. I was disappointed that I didn't just stick to my original colour choices. 
From these two experiences, I have learnt that just splashing colours onto yarns doesn't mean they will create the result you necessarily intend. Dyes react to both the yarn and other dyes differently so more understanding of colours would be useful. By this I mean what colours you end up with when you mix them together. Even by trying to separate the colours in this case, naturally as the yarn is wet, as are the dyes, they track along the wool as they are absorbed and blend without you having much control.
Attempt no. 3
Whilst at Stitchfest Southwest, I impulse brought 3 skeins of Donegal nep 4ply yarn from Rosies Moments which I competely fell in love with. I plan on knitting a thick striped cardigan with it but felt that I needed a contrast colour for the neck, bottom hem and button bands. There wasn't anything that quite matched what I wanted at the show and after an extensive internet search, couldn't find anything in the right base that I liked. So here the opportunity arose to have another go at dying!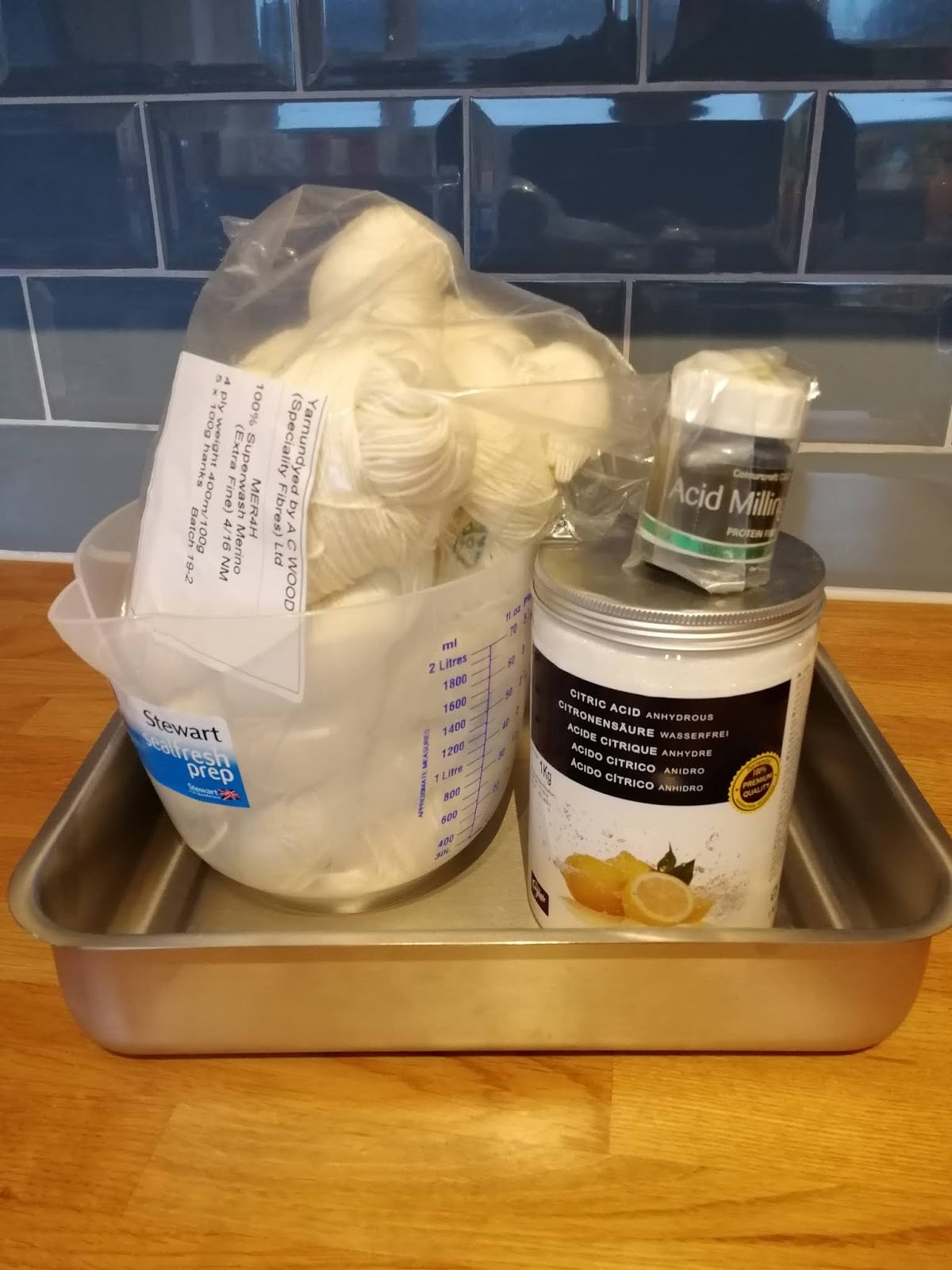 I couldn't find the exact Donegal nep yarn base but I wasn't sure I wanted it to be exactly the same anyway, so went for an extra fine superwash merino from Yarn Undyed. Buying yarn like this is super cheap… If I can get remotely good at it this would be the way forward for sure! I only needed one skein but buying 5 made more sense so I have more to play with in the future! I then brought citric acid, a jug and a baking tray from Amazon. We already had loads of white vinegar and after some research into dyes, I went for a navy from Colourcraft. 
Colourcraft were really useful actually as they have help sheets on their website and also include a sheet in with the dye to aid… I needed this! I had more of an idea of what I was doing after the dye workshop, but we didn't go though how to make up dyes etc. so this was very helpful.
I prewashed my skein and soaked it in a citric acid dilution and made up my dye according to how Colourcraft recommended. I then squeezed out the worst of the water from the skein and laid it out in the bottom of my tin and poured the dye over. I agitated it several times to ensure even coverage and let the dye soak in.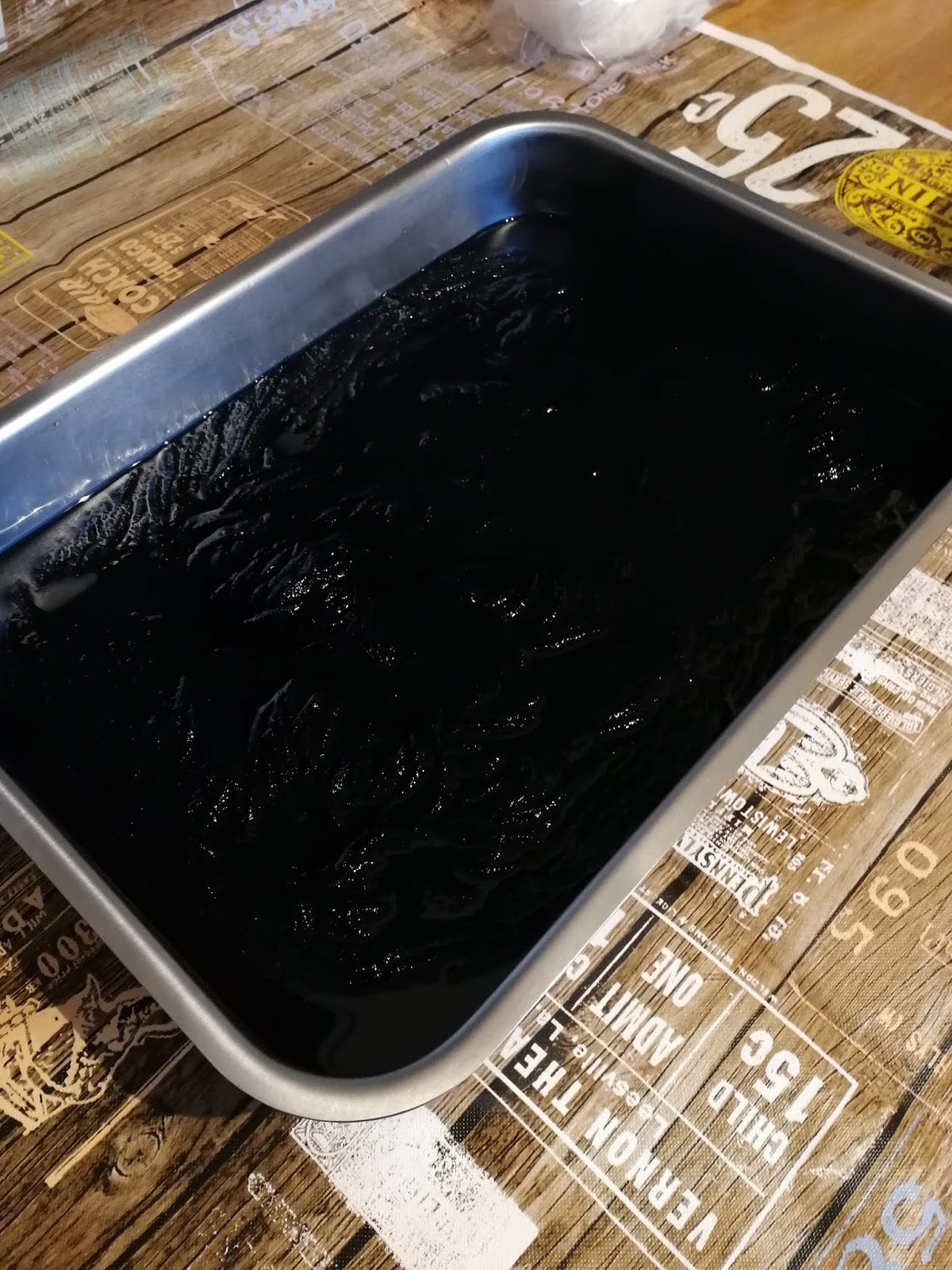 I wanted quite a deep navy so ended up making a couple of batches of dye and submerged it several times until it was the shade I wanted. It then came to the rinsing bit…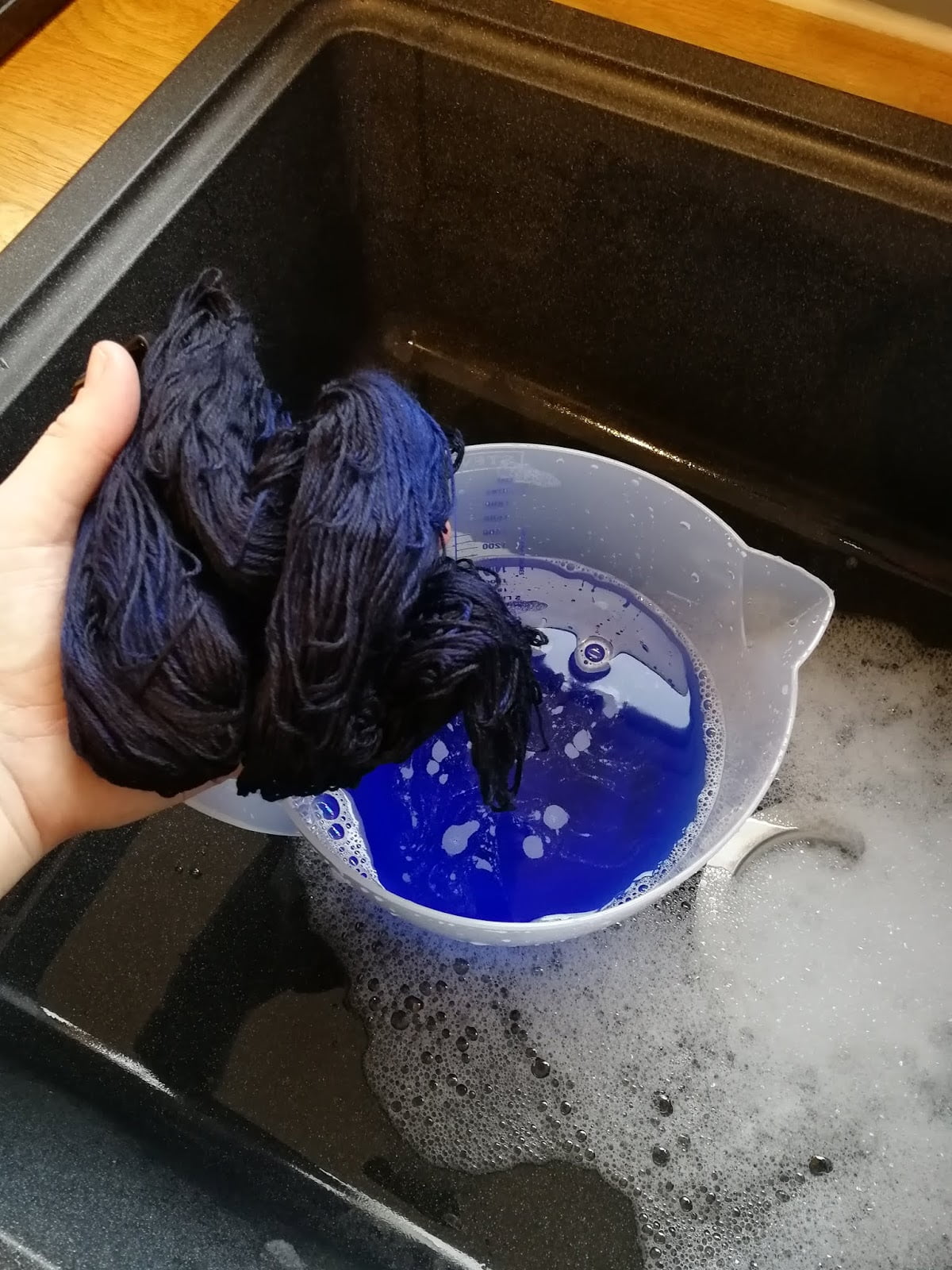 It bled LOADS! So much so I couldn't believe there was still dye in the wool. I probably washed out 3 or 4 jugs of dye like this. I tried dumping a load of vinegar and citric acid in some hot water and putting the wool in it to try and set it better but it didn't seem to help. In the end, I took the advice of Lollypop Guild Yarns and soaked it in a vinegar/citric acid solution again, squeezed out the excess water, wrapped it in cling film and zapped it in the microwave on high for a minute….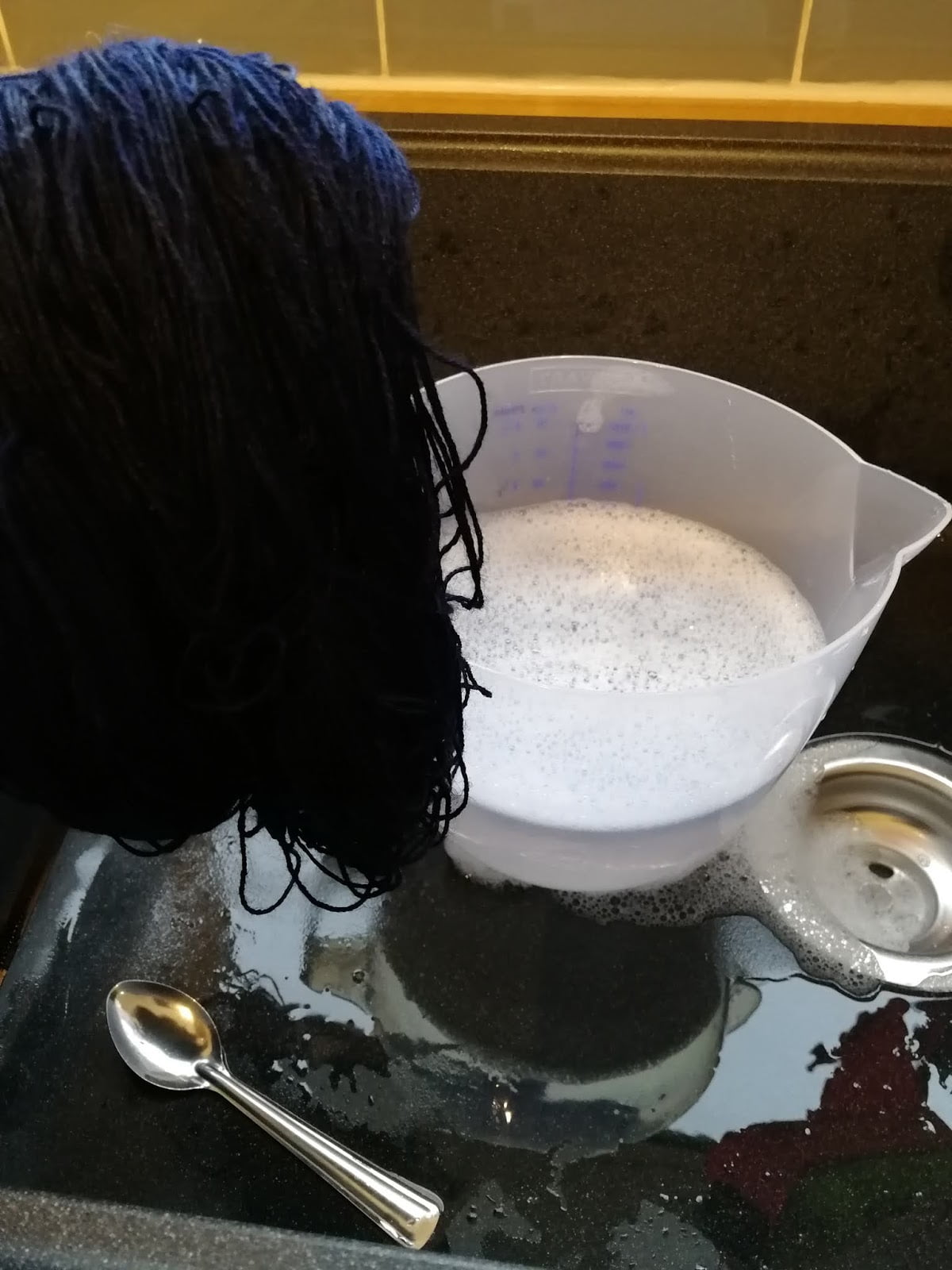 Ta Dah!!! Ok an awful photo of the yarn but I was trying to demonstrate how clear the water was all of a sudden! That was literally one more rinse after the previous photo. Even though I had used hot water/dye solution, I think it was the zapping it that really did the trick. I also think I probably used too much dye as so much washed out but didn't seem to affect the colour of the yarn at all.
I knew I wasn't going to get a completely solid colour and that was OK, and there is more variation in it than would have expected but I am completely over the moon with the result!! Its freaking beautiful even if I do say so myself!
I am assuming the take up of the colours is to do with the fibres within the yarn and maybe how I washed it to begin with. I know that it you want to get really technical with dyeing then you should do pH tests and all that jazz but that's just to sciency for my liking at the moment! I kinda like (to an extent) the unpredictability of it.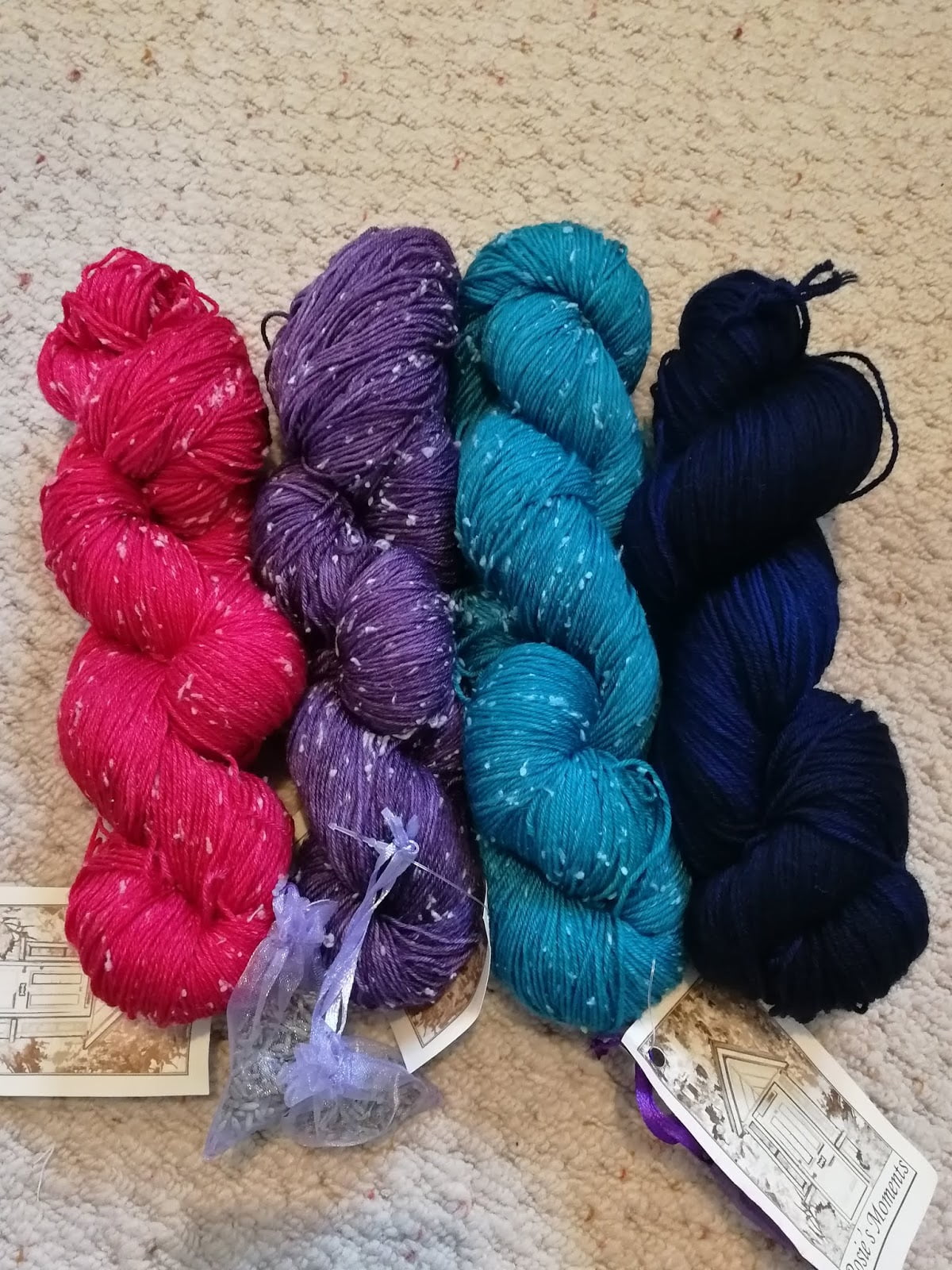 I think it will fit the purpose just perfectly!! No idea when I'll actually get round to knitting the cardigan though, as this new babies due date is creeping ever closer and my knitting days are numbered… Either by the onset of carpal tunnel like last time, or the lack of time which will come with having a newborn and a toddler to care for! It took me months to be able to master knitting with a baby after Pippa, let alone soon having two to look after!